ARRAN

photo © Jane Simmonds
SHENMORE STAR VOYAGER
8/07/96-11/12/10
Sh Ch Palacecraig Go West x Sh Ch Shenmore Seeing Stars
Optigen tested A1 for prcd-PRA and Normal/Clear for FN
Arran was a son of Katie (Seeing Stars) by Sh Ch Palacecraig Go West. He had a successful show career winning numerous BIS awards at Breed Club Open Shows, his Junior Warrant & 4 RCC's. He was a lovely honest type of Cocker with plenty of substance & a sweet, kind nature - a real gentleman! He was not widely used at stud but nevertheless sired some lovely puppies, a number of whom made their mark in the show ring. A few of his Championship Show winning progeny can be seen below:
Shenmore Siani JW
( 1 CC, 1 RCC)
Bencleuch Bethnie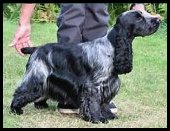 Symbiosis Star Sign
At Shenmore JW
Speechouse True Colours
Dut Ch Symbiosis
Star Struck
(Top Cocker in Holland 2000)
Harbethol Look What
U Missed JW
(Optigen Clear)
**Optigen PRCD-PRA Test** Arran was the first UK resident Cocker to be DNA tested for prcd-PRA using the new Optigen marker gene test. He tested as pattern A1, meaning he was statistically normal for prcd-PRA ie NOT a carrier of the disease (Prcd-PRA is the most common type of PRA seen in Cockers). We are proud that Arran helped pave the way for Optigen testing in the UK and are happy to see so many breeders now making use of this valuable tool. Arran was also Optigen tested Normal/Clear for FN
Arran lived out a long and happy retirement as a much loved house dog here at Shenmore. We are proud to have bred him and to have shared his life for all his 14 years.
"We who choose to surround ourselves
with lives even more temporary than our
own, live within a fragile circle;
easily and often breached.
Unable to accept its awful gaps,
we would still live no other way.
We cherish memory as the only
certain immortality, never fully
understanding the necessary plan."
— Irving Townsend